SF45 Library
This sound source reproduces the sounds of the Super Nintendo Entertainment System (SNES).
The sounds of the final version of the hit RPG series SFC are reproduced.
Ideal for use as a BGM for retro games.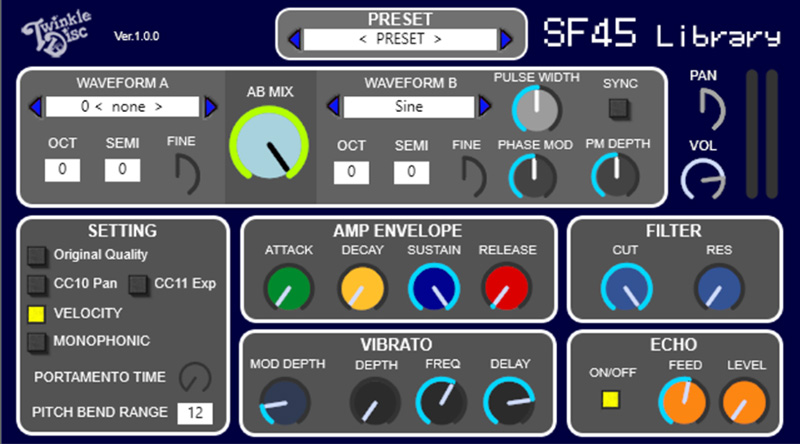 The VST AU version includes a VA sound source, so you can produce sound effects such as waves and wind, as well as 8-bit sounds.
Since the VST AU version does not allow you to change the pitch of the drums, there are presets for kick, snare, toms, etc., arranged in different pitches on the keyboard, so the number of presets is increased compared to the KONTAKT version.
There are also some presets that use VA.
The KONTAKT version does not have a VA, but instead allows you to use all of the KONTAKT's features to create a sound.
For example, filter resonance is not on the panel, but you can tweak it in the settings of the KONTAKT itself.
The VST AU version has more knobs than the KONTAKT version because you can only adjust the parameters in the panel.
As you can see, the VST AU version and the KONTAKT version have their advantages and disadvantages, so you can choose the one that suits your purpose best.
SF45 Library VST AU
Windows 7 or Later 64bit VST2 VST3
Mac OS 10.11 or Later Audio Unit ※not VST
60 Patches , 2 Rhythm Kits,  5 Drum Menus,  36 VA Patches
6MB
$19.00Add to cart
SF45 Library for KONTAKT
KONTAKT 5.7.3 or later  ※not KONTAKT PLAYER
60 Patches, 2 Rhythm Kits
2.5MB
$15.00Add to cart
Presets
SF4:Bass, Cembalo, Flute, Harp 1, Harp 2, Marimba, Organ Pipe, Strings, Synth 1, Synth 2, Synth 3, Timpani, Trumpet

SF5:Bass, Clavi, Dulcimer, Flute, Glockenspiel, Gtr Dist, Harp, Horn, Music Box, Oboe, Organ, Organ Rock, Piano 1, Piano 2, Shout, Steel Drum, Strings, Synth Pad 7th, Synth 1, Synth 2, Synth 3, Synth 4, Synth 5, Tabla, Timpani, Trumpet, Vox, Xylophone

SF45 Exp:Bass Acoustic, Bass Slap, Bass Synth, Brass, Cello, Clarinet, E.Piano, Gtr Clean, Gtr Nylon, Gtr Overdrive, Gtr Steel, Hit, Pizzicato, Synth Bell, Tuba, Tublar Bells, Vibraphone, Violin

Rhythm Kits:SF4 Drum & Perc Kit, SF5 Drum & Perc Kit

Drum Menus (VST AU):Kick Menu, Snare Menu, HH Menu, Tom Menu, Cymbal Menu

VA (VST AU):Sine Lead, Sine Bell, Saw, Ramp, Triangle, Pulse 1, Pulse 2, Pulse 3, Rain or River, Wave, Wind( CUTOFF ), 8bit Saw, 8bit Ramp, 8bit Triangle, 8bit Pulse 1, 8bit Pulse 2, 8bit Pulse 3, 8bit Snare, 8bit Violin, 8bit Flute, 8bit Brass, 8bit Piano, Sync Lead, Brass Lead, Gtr Power, Gtr Pick Harm, Mod Bell, Fat Bass, Organ 1, Organ 2, Organ 3, E.Piano 1, E.Piano 2, E.Piano 3, Harpsichord, Detune Saw, Seq
◆Currently known defects
In some cases, voices may not be loaded correctly when the saved project file is opened. In this case, reopening the project file will cause the correct voices to be loaded.
Related products
SRS123 Library SF6 Library