TwinkerBell
VSTi for synthbells only.
There are 120 presets available.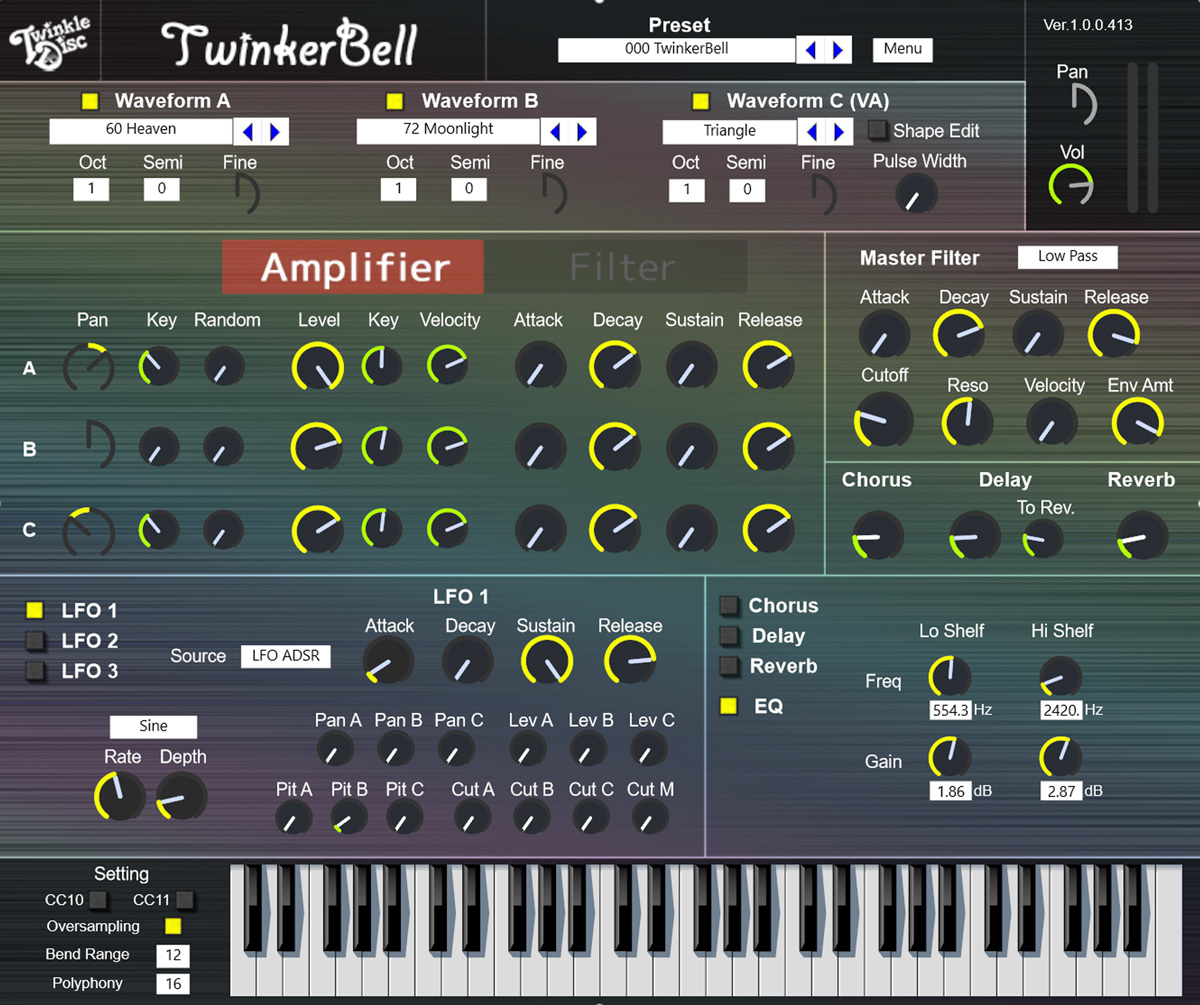 Waveform A to C can be layered in up to three ways.
Of these, A and B can be selected from among 120 PCM waveforms, and just by changing these combinations, 7140 different voices can be changed.
In addition, Waveform C can be layered by selecting from one of the seven VA oscillator types.
VA oscillators can be wave-shaped.
Each of Waveform's A to C can be filtered and enveloped independently, and can be further filtered by the master after being mixed.
Most of the basic functions of a synthesizer, such as three other LFOs and effects, are available, allowing you to create an infinite number of sounds.
120 Presets
120 + 7 Waveforms
Preset 061-070[SHN] is made by Shino
Preset 071-080[eLp] is made by ELP
* If noise or tone collapse occurs in the high frequency range, turning on Oversampling will alleviate the problem. However, the CPU load will be higher, so switch it up depending on the situation.
TwinkerBell
[Required Operating Environment]
Windows 7 and later 64 bit
VST3 *VST2 is only available in older versions and is not supported.
1920×1080 pixels or more
Installation capacity 50 MB
*Not for Mac
$44.00Add to cart
Update History
Ver. 1.1.0.659 22/5/15
・This is an update for VST3 only; VST2 is not supported, but previous versions are available.
・Many operational improvements and stability enhancements were made.

Ver. 1.0.3.513 20/7/26
・Master Tune can now be set between 420 and 460 Hz.
・The Fine Tune value is now displayed and can be set by entering a numerical value.
・The display method of each parameter value for effects has been changed.
・(VST3) Fixed a problem in which turning on Oversampling in some environments would result in incorrect pronunciation.
・(VST3) Fixed a problem in which the sound would return to default when a saved project file was opened in some environments.
・(Windows 7) Fixed the scope display in Shape Edit.
・Improved stability when changing presets.
・The stability of the entire system has been improved.
Ver. 1.0.2.422 19/11/12
・VST3 is now supported.
Ver. 1.0.0.416 19/10/30
・Improved the phenomenon that the installer file is lost by some security software such as avast.
Translated with www.DeepL.com/Translator (free version)